Bringing this over from Vintage forum….
Show me your Wartime Mutant Guitars!!
Found a very nice but strange wartime mutant L7 from Craigslist Santa Cruz the other day...
Exactly like this one from Archtop.com (in below link) but mine was built maybe a week (month?) earlier (S/N 98614)
https://www.archtop...._45L7_1110.html
It has very interesting features that you may only expect on a wartime mutant...
Has the tiny logo script, left over from the 20's or 30's and has the L5 7-ply binding.
Still has the original pickguard, (but is a molten blob) the one on the guitar is from a Super 400.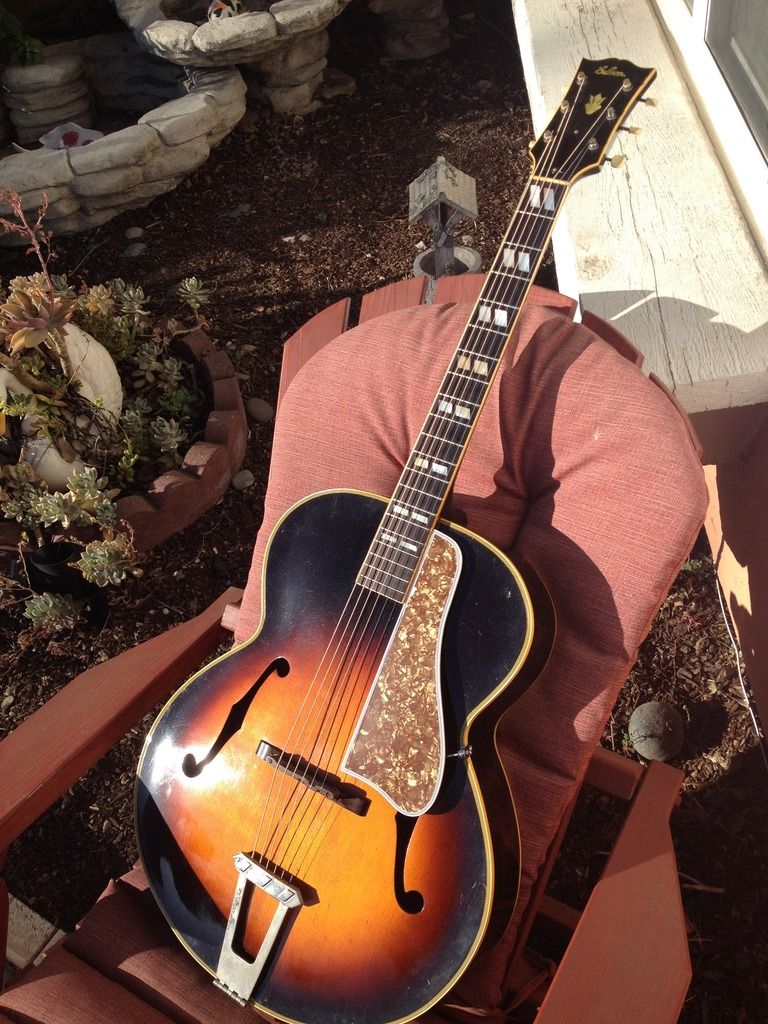 It also came with a Dearmond "Monkey on a stick" pickup that was also near-mint.
Bought it on-sight as the price was low, tone was pleasant and beautiful finish, hardly a scratch on it.
Problem was, (when I got it home) there were playabillity issues, that I couldn't solve by my usual methods...
Fortunately for me, in San Jose, we have an epic guitar luthier shop (C.B. Perkins Co). Kent, Josh and the crew
had this pretty baby singing in no time, did a truss-rod adjustment and hand polished and crowned frets and then
Josh supplied me with Pyramid (Nickel) strings from Germany 12-56 that are perfect for this guitar.
Now I play it constantly, wife and my other guitars are very jealous..