Just thought I'd post my recent experience here as I know there are some people who like to tinker, etc.
I just did a body swap on a Fender Highway 1 strat.
Went to guitar fetish and got one of their XGP strat bodies. Because I was using a strange pickup combo (two mini hums) on a strat, I went with one of the "swimming pool rout" bodies. Did not weigh it, but it felt a tiny bit lighter than the original highway one body, which is to be expected given poplar vs. alder.
Body was $69 and even got to use a coupon for a couple bucks off.
Came well packaged. I chose the Capri Orange. Looked great right out of the box. Very nice finish.
Neck pocket fit very snug. Nicely done.
Everything off my Highway One fit the body very well. Because it is Poplar and I'd heard these were softer wood, I was careful to pilot drill all the holes.........it only comes with the 4 neck screw holes drilled.
The small pick guard screws and such only needed a firm hand with a good screwdriver and they went right in. No drilling necessary. The six bridge screws do not come drilled, so after masking off the body, some VERY careful measurements off the old body, crossing my fingers and drilling the bridge holes, everything came together perfect. Again, I pilot drilled on the smaller diameter and short a little on depth and all screws went in fine and locked up well. Did the trem claw screws......interesting given the angle of the drill, etc, but it worked fine.
Mounted the pick guard, jack plate, etc and wired it up.
Between how snug the neck pocket is and being VERY particular about my measuring to drill the bridge holes, everything lined up perfect.......string spacing on the neck edges is great and square, to the point that I only had to adjust two saddles for intonation!!! Plays and sounds/sustains just as good as the original fender body.
The end result was very pleasing!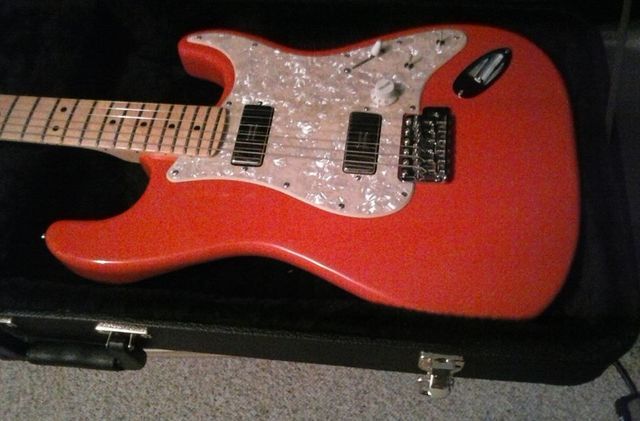 Is it as nice as a Warmoth body?..........probably not..........but for $69 and a great little Sunday afternoon project, I'm VERY impressed with it.
Hope this is useful to any other partscaster people out there.
NHTom