Here is my Tobias. It was sold to me through 3rd Planet Music which housed Bass World in Louisville, Ky. Dave Ernst was the person who handled my sale. I cannot find a listing of this business now so I would quess they have went out of business or changed name. The story I was told was that the guy who owned this bass left the custom shop and was given to him. I don't know the validity of that story. However I purchased the bass on February 18th 1998. It was featured in Bass Frontiers magazine I believe in Nov. 97. I will find the copy of the mag and post the excerpt. I didn't get just a whole lot of info with the bass. It came with a hang tag. a photocopied manual. tools. no actual cards or anything like a custom shop bass should come with.
It has a 9 piece neck, with purple heart, wenge and maple, The body is maybe AAA Birdseye maple. In some pictures it looks like a quilt a little but it isn't. Lane Poor soapbar pickups and I am assuming a Bartolini 18v preamp. It has a 440 piece abalone inlay. I guess basically I would like to find out more about the electronics in it if possible. I can post some pics if needed of the electronic compartment. A current price to have one made would be nice to have also for insurance purposes. I can post anything I have or you may need to help me out.
Here is the other thing I would like to be assured of. On the back of the headstock stamped is "Custom Shop 001"
underneath that is stamped "7000" I think 7000 may have been the code for signature series? I am not sure about that. That could make this a collectors. I don't know for sure.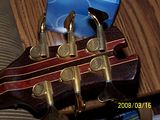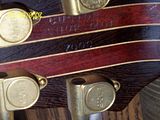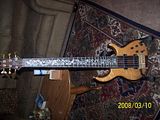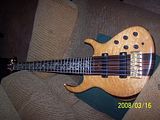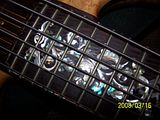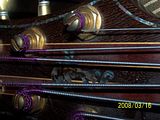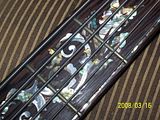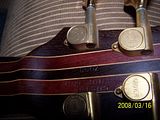 http://i177.photobucket.com/albums/w225/chemojay/Basses%20and%20Music/th_101_4549.jpg
http://i177.photobucket.com/albums/w225/chemojay/Basses%20and%20Music/th_101_4550.jpg
http://i177.photobucket.com/albums/w225/chemojay/Basses%20and%20Music/th_101_4554.jpg
http://i177.photobucket.com/albums/w225/chemojay/Basses%20and%20Music/th_101_4555.jpg
http://i177.photobucket.com/albums/w225/chemojay/Basses%20and%20Music/th_101_4556.jpg
http://i177.photobucket.com/albums/w225/chemojay/Basses%20and%20Music/th_101_4557.jpg
http://i177.photobucket.com/albums/w225/chemojay/Basses%20and%20Music/th_101_4558.jpg
http://i177.photobucket.com/albums/w225/chemojay/Basses%20and%20Music/th_101_4559.jpg
http://i177.photobucket.com/albums/w225/chemojay/Basses%20and%20Music/th_101_4560.jpg