I just want to share my Mod idea for my Wilshire Pro. Just waiting for parts right now. I call it my Tone Monster Mod! Here is the diagram: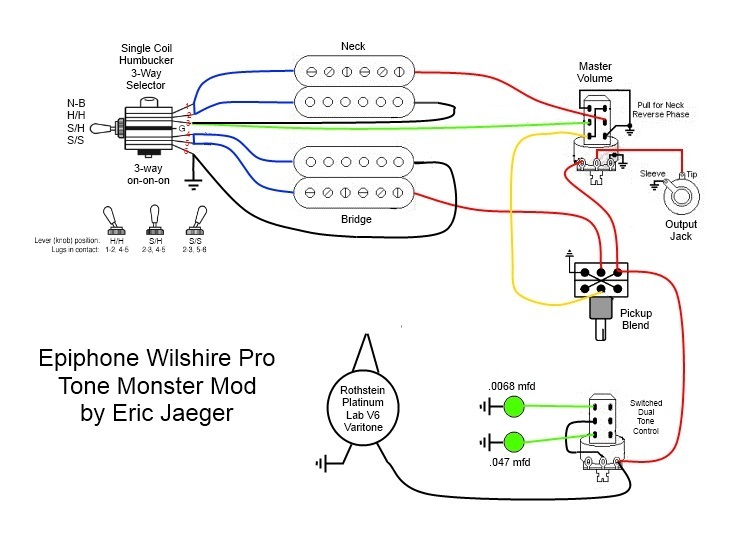 The concept is as follows:
The 3-way selector becomes a humbucker / single coil selector. This is done by using a special on-on-on toggle. Positions for the neck and bridge respectably are:
1 - Humbucker / Humbucker
2 - Single / Humbucker
3 - Single / Single
I know I loose the Humbucker / Single option but with everything else that will happen that's OK.
Next we have a master volume with a phase reverse switch. This along with the 3-way toggle should offer up quite a few tonal options.
We now add a pickup blend pot since we got rid of the original 3-way pickup selector switch. Instead of using a selector switch and volume for each pickup, the blend pot gives us the same varialbility but gives us the luxery of having the master volume to easily adjust the level of everything.
Now we move on to the tone section. First comes a standard tone control but with a twist. Selectable capacitors! I call it the Dual Switched Tone Control. It will give the guitar a standard tone roll-off with the .047 mfd capacitor and a more mellow tone roll-off when switched to the .0068 capacitor.
Finally we add a
Rothstein Platinum Lab V6 Varitone (for Guitar)
. This varitone sounds amazing and when used in conjuction with the Dual Switched Tone Control will allow the guitar to create a multitude of different tonal colors.
So let me know what you all think. Does anyone see any problems with my diagram? Has any one ever done anything similar? I'll keep you all posted as I start putting it together.
Thanks!